Founded in 1846, the Smithsonian is the world's largest museum and research complex, consisting of 19 museums and galleries, 9 research centers and the zoo. Additional facilities are located in Arizona, Maryland, New York City, Virginia and Panama. The Institution has more than 30 million visitors annually.
Of course it wasn't the first museum I have visited in my life, so before going there I had very little expectations. Maybe, this was one of the reasons I was so amazed and exited there. It was a surprise for me that the admission is free. There were so many people, and most of them were people with children even the smallest ones.
Inside the Museum is huge. It has numerous exhibitions and collections to name just few of them: How Things Fly, Looking at Earth, Explore the Universe, World War II Aviation, Exploring the Planets. For those who are eager to become a real pilot, one can climb inside a motion simulator and experience the thrill of flight, fun and adventure.
It has also theatre shows that you can enjoy in only 3 Institutions: National Museum of Natural History, National Air and Space Museum and Steven F. Udvar-Hazy Center. This time (I am definitely sure, we will visit more museus during our next visit to the US) we've chosen HUBBLE 3D movie shown in Lockheed Martin IMAX Theater. We journeyed through distant galaxies to explore the grandeur and mysteries of our celestial surroundings, and accompanied space-walking astronauts as they attempted important NASA tasks. The film was about the Hubble Space Telescope and highlighted its profound impact on the way we view the universe and ourselves. Intresting that the film is narrated by Leonardo DiCaprio, who may I say is a good narrator. And also we liked the 3D glasses we were given to watch the movie.
We spent in the Museum half of the day and still I can't say that we saw everything nor tried everything. There is a great shop in the museum where you can 'buy some memories'. Anyway it was an unforgettable experience and it definetely is worth repeating it again.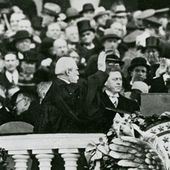 The world's largest museum and research complex, with 19 museums, 9 research centers and more than 140 affiliate museums around the world.
Smithsonian National Air and Space Museum
Official Web site of the National Air and Space Museum in Washington, DC and the Steven F. Udvar-Hazy Center in Chantilly, Virginia. Largest collection of historic aviation and space artifacts in ...