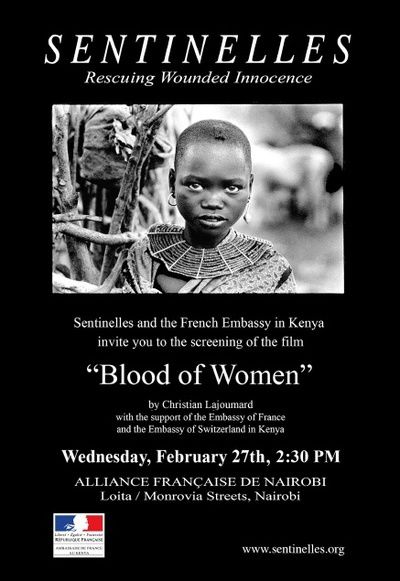 Today I attanded inauguration and screening of "Blood of Women" by Christian Lajoumard a film to raise awarness of sexual mutilations in West Pokot district in Kenya. This film was produced with the support of Swiss and French Embassies for the use of Sentinelles Kenya which is working hard to put to an end this unlawful traditional ritual.
I was so impressed by this documentary. I am still under impression, I can't stop thinking about the horror and the extent of the personal, physical and spiritual drama suffered by millions of little girls subjected willingly or by force to sexual mutilation.
UNICEF estimates that the total number of women living today who have been subjected to FGM in Africa ranges between 100 and 130 million. This means that approximately 2 million girls are mutilated every year. Egypt, Ethiopia, Kenya, Nigeria, Somalia, and the Sudan account for 75 percent of all cases. In Djibouti and Somalia, 98 per cent of girls are mutilated . Due to emigration, FGM is now being practiced in areas of Asia, Europe, and the United States.
Banned by the Kenyan government in 2001, it still remains a strong tradition in Pokot.
Pokot people live in Kenya and Uganda. A fair estimate indicates that there are close to 700,000 Pokot speakers in both countries. In Kenya they live in West Pokot District. These people have very deep-rooted traditions, they are very proud and don't want to turn down their ancient traditions among which the Female Genital Mutilation (FGM) is.
Female genital mutilation (FGM) is the cutting or removal of all or a portion of the female genitals for cultural (not medical) reasons. There are different ways it is practiced according to the place or culture in which it is being done. The World Health Organization describes them in the following types:
Type I (Clitoridectomy): removal of the clitoris.
Type II (Excision): This is the most common form. Removal of the clitoris and part or all of the inner vaginal lips.
Type III (Infibulation): Removal of the external genitalia and stitching of the vaginal opening. A very small opening is left, about the diameter of a pencil. Sometimes the girl's or woman's legs are bound together from the hip to the ankle so that she cannot move for 40 days. Some communities don't stitch the opening. About 15 percent of women who undergo FGM have this form. In the areas where it is practiced, however, it sometimes affects 90 to 100 percent of the women. This type is common Pokot district.
Very important is the fact that Pocot people have absolutely different image of women's beauty then the rest of the modern world. They think that a woman should be strong and brave; girls shouldn't be seen crying, they should undergo several stages of becoming a woman. One of the stages is removal of front teeth, other is scarving of girls' bodies and the most painful is FGM. One girl in the film said that the FGM is like getting a diploma in their community. Most of the girls undergo the ritual between the ages of 10 and 18 years old.
This is how the process of FGM is gescribed by the girl of Pokot community:
"When you are operated on, you are completely undressed and sat firmly on a stone, legs open and face turned upwards. The operation was painful, as a large part of my vagina was cut. Those women who operate use the same knife and the same razor on all the girls. Later, they use the same knife to clean the parts badly operated on.
When a girl is operated on, it is completely forbidden to show cowardice and if she shows signs of fear, the people leave the operation place immediately. The father, the mother and the brothers of the girl carry knives and sticks and at the least sign of cowardice, they stab or beat her all over.
When I was operated on, my father refused to accompany me, as he feared that I would not bear it. My mother and the other family who accompanied me covered me with pearls after the operation. One of the fifteen girls operated on with us did not remain firm enough during the operation. She blinked her eyes and the people ran away shouting, even the woman operating. They abandoned us until midday when the women who operate came back to clean the parts of the vagina that had been left. Her mother wanted to hang herself, but the people stopped her and took her away from the tree in which she had climbed. Her older sisters, who had been operated on before, had been brave and had not shown signs of weakness. She was the last born in the family. Until now, she has not married, as no man would want to marry a girl who has not been brave during the operation. She has children by different men, as no man will accept her as a legal wife. She is the laughing stock of the community."
Many men equate it with male circumcision and have no understanding of the pain and danger of the procedure, nor of the long lasting problems for basic functions and childbirth caused by the removal of the clitoris and labia and the crude stitching to leave one very small opening. Without being cut girl can't get maried, a man from her community just won't marry her. Senior women will call an uncut woman "a girl". An uncut woman can not sit and eat with her man, can not cook food for him, can not wash his closes. She is literrely treated like a child, without respect and dignity.
In many communities an uncircumcised woman is a bad omen. They believe her husband and all her children will die. "No woman wants this to happen to her loved ones and she will opt for the procedure".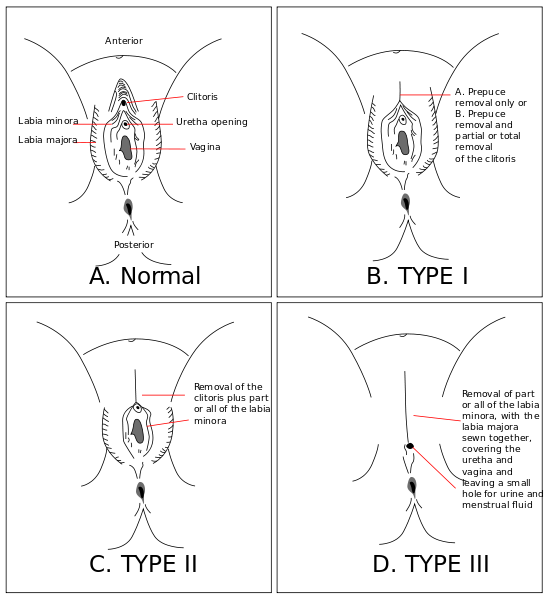 Pokot community does this procedure for such main reasons:
psychosexual reasons: reduction or elimination of the sensitive of the clitoris, in order to attenuate sexual desire in the female, maintain virginity before marriage and fidelity during marriage, and increase male sexual pleasure;
sociological reasons: identification with the cultural heritage, initiation of girls into womanhood, social integration;
hygiene and aesthetic reasons: the external female genitalia are considered dirty and unsightly and are to be removed to promote hygiene and provide aesthetic appeal.
Meanwhile FGM has serious consequenses. Immediate complications include severe pain, shock, bleeding. Infection and bleeding can cause death.
More recently, concern has arisen about possible transmission of the HIV due to the use of the same instrument for multiple operations.
Long-term consequences include keloid scar formation, painful urination, painful sexual intercourse and sexual dysfunction and difficulties with childbirth. Many of these women miscarried sexeral times.
Genital mutilation may leave a lasting mark on the life and mind of the woman who has undergone it as well. In the longer term, women may suffer feelings of incompleteness, anxiety and depression. Very often they leave their husbands because of the pain cause by their sexual life. The unwillingness of women to practice their sexual life leads to rapes and agression towards them.
In Kenya the Children's Act in 2001 banned the practice of FGM for all girls under the age of 18, but this has had but a small effect. In addition, the procedure, although illegal, is often done in secret. Girls' parents pay good price for those women who can provide the "service". Girls are often married almost immediately after the ritual, thus dropping out of school. Therefore the issue is also one of education for young women.
If the girl refuses to undergo the procedure, the only way out for her is to escape. In a northern area some 23 girls (aged between 12 and 16 years) fled their homes for fear of being circumcised. They walked at night for more than 50 kilometres. It is a major step for a girl to flee her community, for she can never return home.
Nevertherless, I believe things can change. This deeply-rooted tradition can not vanish overnight. I think a law banning FGM is a powerful way of creating social change, by showing that the world itself is changing, by showing that culture can not suppres women's rights.
But shouldn't be it also about the mothers saying no when their daughter comes to an age when FGM is normally performed?
I am convinced that there is hope for little Pokot girls. They have many examples now how to fight for their rights. One of them is Somali super model, Waris Dirie, who was also 'circumcised' as a child of five years and has spent her life since campaigning against and denouncing the 'barbaric' practice.
Three of her female cousins died as a result of the procedure. She says: "Female circumcision is not a cultural, traditional or religious requirement, it is a front to subdue women. When I was told I would undergo the rite, they made it sound so glamorous that I enthusiastically looked forward to it, impatiently asking my mother when it would take place. But when it happened, it was so painful that it left a big, sick hole in my heart."
Waris ran from home at 12 when she realized her father wanted to marry her off to a 60 year-old man in return for five camels. She lived with an uncle who took her to London as a housemaid when he was appointed Somali ambassador. She was discovered by a photographer while she worked as a janitor at Macdonalds. In 1997 she was appointed UN Population Fund's good will ambassador against female genital mutilation.
Shouldn't it be about mothers saying no when their daughter comes to an age when FGM is normally performed? - See more at: http://www.actionaid.org/2012/02/freeing-women-female-genital-mutilation-fgm#sthash.DrLkp5Ut.dpuf
Sentinelles - Wounded innocence
Wounded innocence is a terrifying state of grace. An important moment of neglected suffering which is not alleviated either by the pretence of remedies from so-called experts, nor by the tinkling ...
Female genital mutilation (FGM), sometimes called female genital cutting (FGC) or female circumcision, is the cutting or removal of all or a portion of the female genitals for cultural (not medical)