When we arrived in Nairobi, Kenya in mid-October last year I knew nothing about Kenya, Kenyan people, their everyday life. My husband had been here before, in 2010, but it was a short trip. So he knew more than me (he stayed here for two weeks first time and had his first safari in Nakuru those days) but still we were like aliens in Nairobi, in Kenya and in East Africa.
Now we have been living here for almost six months. But even now I can't say that I know Nairobi, or Kenya, or Kenyan people, their everyday life, their habits and soul. What I can say is that I have such an interest to know these things.
Most of us, foreighners (especially from Europe, America, Australia or even Asia) are MUZUNGUs here. Those who live in Kenya, don't need my following explanations of the inevitable consequences of being a "muzungu" resident in Kenya. But for people who have never been to Kenya I should explain: "muzungu" has no negative linguistic connotation (it means white or foreighner), nevertherless it means in most cases, that you will pay more than local people, that you are not welcomed in many places, that you should not go to many areas, that you should be extra cautious and careful.
One once said, that if you want to know the country you should go to the market. All I can say, I have never been to a market here.
It makes me very sad, because all this preventive measures just make any interaction with Kenyan people impossible. And how can I know more about people if I live in an area where mostly rich or foreighners live. Sometimes I feel like living in a ghetto, even if it is a nice and wealthy one.
That is why I always try to benefit from every opportunity to familiarize myself with Kenyan identity, mindset and soul. The grate job of giving such opportunities for all interested is done by Goethe Institut Nairobi, Alliance Française Nairobi and Kenya Museum Society. Goethe Institut support and finance various cultural workshops, art classes and projects for talented African filmmakers, cameramen and artists. Alliance Française hosts many film screening sessions, concerts, art excibitions, plays in most cases for free. Kenya Museum Society is also famous for spreading knowledge not only about Kenyan historic heritage, but also about present-day Kenya. It organises lectures on Kenyan culture, art, traditions, music and so on.
So my desire to know Kenya better just made me more active and curious in my discoveries.
In this post I will share my impressions on three modern Kenyan movies that showed me Kenya that I never knew, and most probably I wouldn't ever know without seeing these movies, as well as I am a muzungu lady in Kenya.
The first film is called SOUL BOY and it is a 2010 Kenyan drama film. This film was written by local writer Billy Kahora, directed by Ghanian-Kenyan director Hawa Essuman, and developed under the mentorship of German director and producer Tom Tykwer in Kibera, one of the largest slumms in African continent, in the middle of Nairobi, Kenya.
Kibera is home to a million people, the dround is literally composed of litter and rubbish and there is no sanitation. Being a muzungu, I shouldn't go to Kibera, that is why I didn't miss the opportunity to see the story of the daily life of Kibera people. But the best is not even Kibera, most important that this film is made in Kenya, by Kenyan people in Swahili language (with English subtitles) involving as many actors from Kibera as possible transforming the mysteries and myths of Kibera's multi-faceted social microcosm into a modern fairytale story.
Kibera, Nairobi, Kenya. 14 year-old Abila lives with his parents in Kibera, one of the largest slums in East Africa.
One morning Abila wakes up on what seems like just another day to find that his father ill and delirious. Someone has stolen his soul, mumbles the father. Abila is shocked and confused, he is troubled and worried as there is no one to run their kiosk but he wants to help his father and goes in search of the right remedy.
Through the help of his friend Ciku he goes to see a witch who gives him seven tasks to complete if he wants to see his father recover. The film then progresses from here with Abila having various encounters in this modern day Nairobi adventure.
Soul Boy is a present day tale, with the teenage boy encountering the various issues in the slums; including tribalism (his girlfriend is Kikuyu), violence, crime and superstition. Soul Boy lays the issue of tribalism on the table and shows how tribes are distrustful of each other especially after the 2007/08 post-election violence. Abila (a Luo) trying to balance his friendship with his boys, while still hanging out with his Kikuyu girl-friend Ciku . In another scene Abila even does't want to be seen with his Kikuyu friend Ciku which is very sad. It fell sorry for Kenyans have to make such choices in their everyday lives because of tribal myths and mistrust.
The aspect of spirituality (or occult) and myths is also potrayed in a film. Abila hears of a witch called Nyawawa and bravely goes to see her to see if she can help his father. For me this aspect of Kenyan mindset was absolutely new, seeing how traditional superstitions transormed in modern-day city life, with the idea of consulting a witch is just another aspect of slum life.
The scene where Abila meets the witch and she is giving him the tasks is very original both for the camera work and lighting.
But the most impressive in the movie is the theme of poverty. Soul Boy has a vivid and troubling showing of the rich-poor divide in Kenya. Abila, while following his aunt one day finds himself in a white-owned household in the green suburb of Karen.
But before that, when he embussed the ticket-collector asked him whether he is travelling by bus for the first time. So, presumably, there are many people who never leave Kibera, and even don't know another areas of Nairobi. However I liked the way they showed Abila's trip by bus. I use these buses, athough it is not advised for muzungus to do so.
I felt very sad and helpless at the contrast between the slums of Kibera and the opulence of protected Karen life. Abila, amazed by tha beauty of the house and wealth of the houselord, ask him whether he is happy or not. For Abila it is unbelivable to be unhappy having this life.
All the actors made a grate job, especially Abila's girlfriend Ciku, who potrays a fiercely independent and intelligent teenage girl, not afraid to speak her mind. In one scene, she calls all the boys in the neighbourhood "idiots" during an argument with Abila. I think Ciku is a great image of a Kenyan women. As far as I noticed, they are very independent, very wise, self-reliable and hard-working. I wish Kenyan had more women in the government, I am sure women could bring order in the country.
Abila ends up facing his fears and growing up. Soul Boy is a coming of age movie, it manages to create a touching tale of slum life in Kenya and how people still find hope, adventure, love, friendship and family.
This film was never made to be sold, it was made to train Kenyan filmmakers to give them some exposure, to build some experience for crew to film another movies and hopefully eventually find markets for their films so more Kenyan film makers can make their living from fullfilling their artistic dreams.
Second film that has also provided me with the image of another side of Nairobi life is NAIROBI HALF LIFE drama film, 2012. The film was selected as the Kenyan entry for the Best Foreign Language Oscar at the 85 Oscar Awards, but it did not make the final shortlist, and it is the first ever Kenyan entry to recieve an Oscar nomination.
Shooting location Nairobi City
NAIROBI HALF LIFE tells the story of an aspiring young man who wants to become an actor in the big city. He lives in the rural area upcountry Kenya and sells DVDs with movies, but to achieve his dreams he needs to travel from his rural home to Nairobi: the city of opportunity. When his mother knew about her son's plans, tells him that Nairobi "is where poverty, disease and the devil live." His father describes Nairobi as following: "Nairobi has the worst people, in Nairobi you cannot be good and make it."
So during the first day in Nairobi Mwas was robbed twice of all his money and belongings, and got into jail for nothing. The jail is portrayed very realistically, indeed. In a scene where Mwas is thrown into a Nairobi jail and is forced as the newcomer to clean up disgusting filthy toilet, many people in the audience covered their faces. It was really one of the least pleasant scences in the film.
In the jail he gets taken under the wing of local gang leader, Oti who takes him in his small time gang. Mwas got mixed up with the criminal life that rules his new home and quickly learned why Nairobi is also known as 'Nairobbery'.
Drawn into a new world of theft and violence, he still tries to pursue his dream of becoming an actor. So he starts his double life being a con 80% of his time, and an actor the rest of the time.
Except of the theme of poverty and naive people from the country that come to Nairobi, hoping to get a job, film portrays another side of the rich city life. Mwas' partner in a theatre play, Cedric is a rebellious son of a rich man, who also lives a double life. He is gay, but has to present himself as straight. Portraying these two young men was a director's intention to show the huge gulf between the realities and fears of the rich and poor class, and the Kenyan middle class (if it exists, of course).
Most shocking for me was a disturbing portrait of the role that police play in Nairobi's criminal world. The common narrative is that the police protect criminal gangs in return for a share of the loot. The point seems to be that there is no one protecting Kenyans and foreighners(that become victims of a carjacking incidents more frequently), as the unnerving scenes of carjackings show. Actually we saw this movie in Junction Mall, and in the movie itself one of two carjacking scences took place in Junction car parking. I was so scared to get out of the cinema, and dead sure there our car was already missing from the parking. As a result, the journey home from the movie that night was particularly scary. Actually the film works, because it makes you appreciate your life more, and also it made me more cautios looking over my shoulder every now and then after watching it.
Throughout the film, the director has highlighted the crimes of the city, the shacks and prostitution, the poor conditions of the roads as well as police brutality and corruption. And even if I knew, as a foreighner that this is the reality, seeing it from Kenyan point of view, from the inside, I would say, was really shocking and stressfull.
To sum up, I would like to say that this film really impressed me. Nairobi Half Life is a great film technically. The storyline is equally captivating. I also appreciated the choice of the music throughout the film. Actors performed beyond my craziest expectations. Both actors and the plot with a lot of action, and Nairobi shots kept me glued to the screen. At some points film has many funny moments, especially for locals, who laughted so much at least firs half of the film. I can strongly recommend to watch this movie for those who are interested in a present-day Africa, Kenya and Nairobi life.
For those who want to read more reviews of this film (maybe written by Kenyan authors) I give a link to the Daily Post where the famous patriotic review (which I really like) by a lecturer at Kenyatta University department of Theatre Arts and Film Technology Steven Anderson Wekesa is published.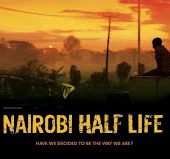 DAILY POST: Nairobi Half Life is HALF BAKED......KENYATTA UNIVERSITY lecturer
Home /Entertainment News /Nairobi Half Life is HALF BAKED......KENYATTA UNIVERSITY lecturer
http://www.kenyan-post.com/2013/02/nairobi-half-life-is-half-bakedkenyatta.html
The third film I want to tell you about is SOMETHING NECESSARY, 2013. The film is directed by well-known Kenyan Director, Judy Kibinge and produced by One Fine Day Films who produced SOUL BOY and Nairobi Half Life.
The premier was shown on 24th of January in Junction, but I saw this film in Louis Leakey Auditorium of Nairobi National Museum the month after the premier.
Something Necessary tells the story of Anne and Joseph. Anne is a survivor of the post-election violence (PEV) that rocked Kenya in 2007/2008. Her husband is murdered, her son is in a coma and she herself is hospitalized after a gang of youths breaks into their home and raped her at the height of the PEV. Joseph is a perpetrator of the PEV and was one of the youths that broke into Anne's home. Fate unites the two characters when Anne begins to rebuild her home and Joseph is hired as a casual labourer by the Contractor working on Anne's house. Both, Joseph and Anne, need something that will allow them to shed the painful memories of their past and move on. In the end, they are just two people trying to make sense of events whose web they found themselves entangled in.
Anne struggles to rebuild her house and her life. She hardly has any money and her husband's step brother wishes to take the house away from her.
Joseph is a young man, and an ex gang member troubled by his past participation in the countrywide violence and in search of redemption. Poverty keeps him from advancing in his studies, he can hardly get a job and the gang he was a member of won't let him leave so easily.
The story is told with some chilling material of ctual footage from the horrific events of the PEV. For me this film was the most difficult to watch (comparing to two previous films), there was not much of an action. One of the scenes that was especially difficult to watch is when Anne has an abortion in a cheap motel room after she discovers she is pregnant by one of her attackers.
I think the film is a timely one with Kenya elections on March 4th. Another reason to recommend you this film is because it's one of the few Kenyan films that chronicles an event in modern Kenyan history. Of course it does not aspire to tell the story of an entire country, it does not cover even 1% of all that happened during PEV, but it is good to see at least one story among thousands others.
To conclude, I want to say that I hope Kenya has learned the lesson and the PEV of 2007/2008 wil never take place and Kenyan people should definitely not forget the effects that were the aftermath of the last elections. They should forgive but never forget. This movie is a strong message which is delivered for all those who will care to pay attention.
The Kenya Museum Society (KMS) is a not-for-profit organisation set up in 1970 to support and promote the National Museums of Kenya. You are invited to join the Society and find out more about ...
ALLIANCE FRANÇAISE AU KENYA - ALLIANCE FRANÇAISE NAIROBI
COURS DE FRANÇAIS OUR FRENCH CLASSES Next intake : 11 March 2013 Registration ongoing... General French French for professional purposes (...)