I think now, after several blogs from NY you are wonder having they visited Empire State Building? Of course we have!
For the best part of 20th century, all NY visitors have headed straight to the Empire State Building for the thrill of a life time. Since 1990s it offers beside its famous fabled 86th floor Observatory (320 m above ground) another attraction NYSkyride. This is an awesome aerial tour of NYC that sends on a ride around, above and even below the city and you can feel the sights from the specially-equipped, motion-simulated theater seats.
NYSkyride is located on the second floor of the Empire State Building, and it's definitely a good news. A bad news is that if you want to see the movie and than directly go to the observatory you should pich up your tickets to the observatory first. The point is that there are 2 separate qeues for each. So it's for you to decide what do you want to visit first. New York Pass grants you free admission to both places.
My advice here would be go and pick up your tickets to the observatory first thing and then make a Skyride. The queue there is 4-5 times smaller, so you will save a lot of time and after seeing the movie you will proceed directly to the 86th floor Observatory (only with tickets).
In case you fail to pick up Observatory ticket before going to Skyride you will be supposed to stand another queue for the second time. Mind that there always a lot of people going to the Observatory. So you will spend at least an hour waiting unless you come at 8 a.m. (when it opens).
Beside 86th floor Observatory the is another observatory on 102nd floor. It is 381 m above ground. For this you should pay extra money. I am not sure wether the tickets are available on the ground floor, but we've seen them selling by means of selling machines on the 86th floor but you should pay with your credit card there.
And now some information about this legendary building. It is 381 m high and its construction finished in 1931 just 1 year 45 days afret breaking ground. $41 million was spent to complete the World's Most Famous Office Building.
They have recently restored the lobby. It incorporates rare varieties of marble imported from Belgium, France, Germany, and Italy. And also you will notice the brilliant ceiling mural of the celestial sky in gold and aluminium leaf.
NORTH VIEW
Here we see the Hudson River, Central Park, George Washington Bridge, which connects New York to New Jersey.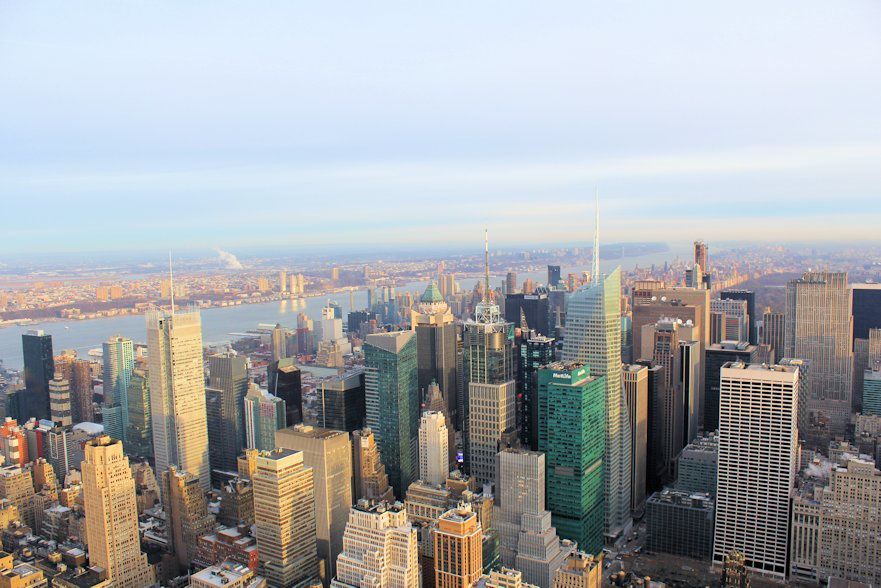 SOUTH VIEW
Looking South, you can see Manhattan's Financial District. Look to the right and you'll see the Statue of Liberty and Ellis Island, and to the lower left are the Manhattan and Brooklyn bridges.
EAST VIEW
Directly east is the Borough of Queens, separated from Manhattan by the East River. Right beside the river is the United Nations Headquarters, and famous Chrysler Building.
WEST VIEW
Here we see the legendary Madison Square Garden. Acros the Hudson you can get a great view of New Jersey.