Hello everyone! This post is about our stay in Elsa's Kopje in Meru National Park.
Elsa's Kopje is named after the world-famous lioness returned to the wild by George and Joy Adamson, a story that touched so many through the film, Born Free.
Kopje means a rocky outcrop (or an inselberg). Throughout the public areas of the lodge photographs of the Adamsons and Elsa herself predominate, a wonderful reminder of the lioness who changed the face of safaris in Kenya forever.
We were welcomed with a very warm and genuine welcome and made to feel like a personal guest which I feel is quite rare. Philip and Charlie manage the Lodge extremely well and are charming and gracious hosts. It is obvious how they love their environment and how committed are they. They showed a genuine interest in what you had done that day although they had probably heard it a million times before.
It would be also difficult to beat the location of Elsa's Kopje, it boasts fabulous views in every direction across the diverse vegetation of Meru National Park and at night, the Milky Way is stunning.
Elsa's is the kind of place that you visit that literally makes you change your view on life. Its beautiful, the architecture is incredible. The views over the bush and the pace of life at Elsa's take you immediately away from the rat race, you can't help but relax. Its a soul restoring place.
The dining room and bar area overlook a small grass garden and onto the public swimming pool which has fabulous views over Meru. The kopje itself has been used with one side of the pool formed entirely by the natural rocky landscape, it is quite lovely.
The bar and sun-lounge area is full of interesting books and some antique pieces of furniture - the whole lodge has a very elegant yet homely atmosphere.
There is a massage room, so you can get a really good massage whilst looking out for elephants or other big animals.
Our room № 1 was accessible by swaying bridge which was a great fun itself!
The Lodge itself comprises individually designed rooms (or, Tolkien-designed pavilions), and no two are the same. They are beautifully appointed and imaginatively, even brilliantly, incorporating the natural features.The owners have gone to great lengths to preserve the integrity of the landscape and the rocky kopje itself forms a part of your accommodation.
The rooms are without windows with huge openings that allow to to feel a part of the landscape day and night. The room being open throughout the day. However there are extremely effective heavy duty nets that are cover the "glassless windows" to prevent unwanted visitors sharing your bed during the nighttime. The rooms are extremely spacious and well equipped.
Each bungalow is individually solar heated so you are responsible for monitoring your hot water usage.
Our bathtub was outside and the water cascaded from the rocks above!
Every morning we were woken for our safari with hot coffee and biscuits. After such a pleasant "wake up call" we enjoyed an incredible sunrise in an African savannah.
For animal lovers or/and lizard lovers Elsa's Kopje is a perfect spot. Here we have seen a great number of Rainbow Agamas (lizards) which were posing nicely without running away.
Red-headed rock (rainbow) Agama
Another nice creatures that inhabit Kopje are hyraxes. The hyrax are very nice if you see them in the tree or on the rocks. They are peaceful and shy.
Our last morning we sat in our tent overlooking Meru and watched a hyrax contemplating how to get the green leaves way at the end of the thin branch without falling.
One day we decided to make a short (45-min) hike before our breakfast. From the top of the hill we saw Elsa's Kopje cottages, its common places with the pool ant we had a 360-degree view of the Meru National Park.
The public place dedicated for sun-downers has perfect views over the area. It's very romantic and intimate spot (as it rarely had more than a couple of people there) to chill after a day of game drives, watching the sun go down and spotting animals off in the distance.
The food provided within the lodge was plentiful, breakfast and lunch being substantial buffets and the evening meal being a more formal event with meals served plated at your table. During our stay we thoroughly enjoyed taking our evening meals under the stars. Each meal was delightful, delicious, ample and beautifully presented and the dinners under the stars are very special.
The sky at night was like nothing we'd ever seen - there must've been millions of stars up there and they looked as if you could just reach up and touch them!
We used our private car for our game drives in Meru National Park. Although Elsa's Kopje is happy to provide its guests with comfortable cars and knowledgeable guides for the best safari experience possible.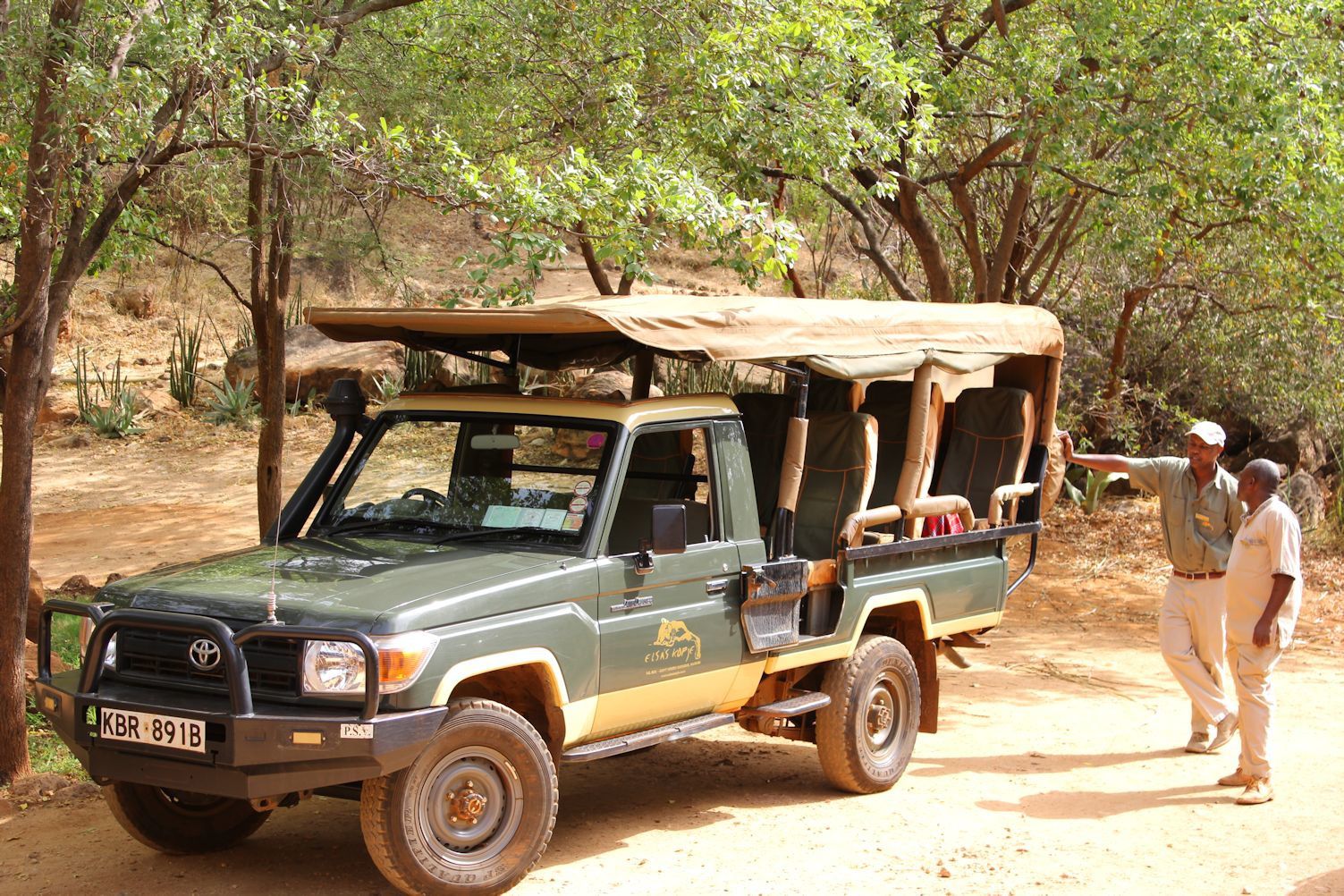 Staying here was like staying at a weekend house party. The management go out of their way to make you feel at home, calling you by your first names and seeing you off and back from your game drives.
We were only there for two nights, and they must welcome hundreds of people every year, yet still made us feel as though we were special guests.
The staff are friendly and professional and within the Lodge itself we could not fault their service.
We have no hesitation is recommending this camp and look forward to returning ourselves in the not too distant future. We'll definitely return to Elsa's - it was meant to be once-in-a-lifetime but it'd be impossible not to go back for a treat in a few years time.
If anyone is considering Elsa's Kopje all we can say is that if decide not to then you are making a massive mistake as both myself and husband found it to be the most peaceful beautiful yet exciting place either of us have ever been to.
Overall this was the perfect mix of luxury, adventure and a game-drive.
A selection of images and videos of Elsa's Kopje.