The Times Square Ball is a time ball located atop the One Times Square building in NYC. It is utilized as part of New Year's Eve celebrations held in Times Square. The first ball drop in Times Square took place on December 31, 1907, and has been held annually since (except 1942 and 1943, when wartime light restrictions caused it to be canceled).
Until 1903, the largest New Year's Eve gathering of New Yorkers took place at Trinity Church on Wall Street and Broadway (photo of Trinity Church see here).
The New York Times described the scene in 1897: "The crowds came from every section of the city, and among the thousands, who cheered or tooted tin horns, as the chimes were rung out on the night, were many from New Jersey, Long Island, and even Staten Island." Things were much the same for another half-dozen years. But as December 31, 1904 approached, many party-goers were persuaded to attend a different celebration far uptown.
Until that time, the area where 7th Avenue, Broadway and 42 Street met was called Longacre Square. This is how it looked like back in those days:
That narrow building rising all by itself, then the second tallest in New York City, is the just-finished headquarters of The New York Times newspaper. Its publisher, Alfred Ochs, had successfully lobbied city leaders to change Longacre Square's name to Times Square earlier that year. He then resolved to throw a New Year's Eve celebration that would be the talk of the town.
"An all-day street festival culminated in a fireworks display set off from the base of the tower," according to an official history published by the Times Square District Management Association, "and at midnight the joyful sound of cheering, rattles and noisemakers from the over 200,000 attendees could be heard, it was said, from as far away as Croton-on-Hudson, thirty miles north." Could Alfred Ochs imagine those days that The Times Square ball drop would become one of the best-known New Year's celebrations internationally, attended by at least one million spectators yearly, with an estimated global audience of at least 1 billion.
An annual event was born -- but two years later, the city prohibited the fireworks display. "Ochs was undaunted," the official history continues. "He arranged to have a large, illuminated seven-hundred-pound iron and wood ball lowered from the tower flagpole precisely at midnight to signal the end of 1907 and the beginning of 1908." Thus the origin of today's celebration.
The ball itself has changed over the years to reflect new advances in technologies. Its original design utilized 100 light bulbs, iron and wood in its construction, but in 1920 iron and wood was replaced with a 400 pound orb of all iron. In 1955, an aluminum replacement weighed in at a considerably lighter 150 pounds, and was adorned with 180 light bulbs.
From 1981 to 1989, ball was decorated in honor of the I Love New York campaign, with red bulbs and a green stem to give it the appearance of an apple. Though its bulbs were changed in the to make it look like an apple, that ball more or less survived until 1995, when it was with aluminum skin, rhinestones and computer controls. The new ball didn't last long.
An entirely new fourth ball was constructed for the arrival of the new millennium. Weighing 1,070 pounds (490 kg) and measuring 6 feet (1.8 m) in diameter, the fourth ball was covered with 504 crystal triangles, illuminated externally with 168 halogen light bulbs, and internally with 432 light bulbs of clear, red, blue, green and yellow colors along with strobe lights and spinning mirrors. Many of the triangles were inscribed with messages of a certain theme changing yearly, such as "Hope for Fellowship", "Hope for Wisdom", "Hope for Unity", "Hope for Courage", "Hope for Healing", and "Hope for Abundance".
In 2001, the ball's crystals were engraved with the names of organizations who assisted during the September 11 attacks and the nations who were affected by the event. On December 31, 2006 for New Year's Eve 2007, the fourth ball was dropped for the last time.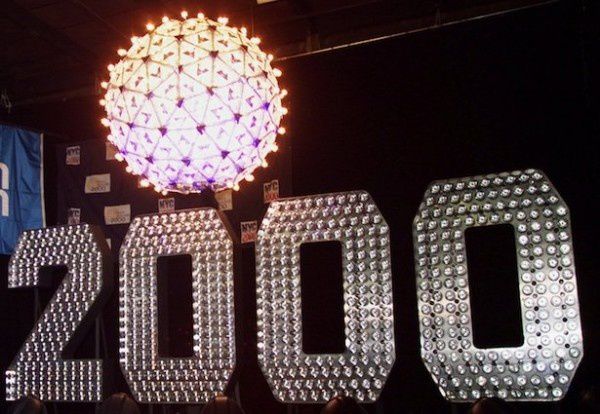 In the United States, the Ball Drop is televised as a part of New Year's Eve specials on several major television networks. By far the most notable of these are ABC's New Year's Rockin' Eve, created, produced, and originally hosted by Dick Clark since 1972 until his death in 2012. In recent years, it has consistently been one of the most-watched New Year's specials, peaking at 22.6 million viewers for its 40th anniversary edition in 2012. Following the death of Dick Clark in April 2012, 2013 ball was added a crystal engraved with his name in tribute.
Full coverage of annual mega-party 2013 welcoming on Times Square may be viewed in my previous post called TIMES SQUARE Ball Drop 2013.