Hello everyone! This post is about Auma Obama's book "And Then Life Happens", its reading at Goethe Institut in Nairobi and showed film "Education of Auma Obama".
When I came to Kenya, which was about 7 months ago, I suddenly discovered that the 44th and current President of the United States, the first African American to hold the office, Barak Obama is of Kenyan origin.
Although it seemed that is was not a secret to anyone here in Kenya, but no one could really explain me the actual details.
Thus the idea to make a small investigation upon this subject was always there. So when I got an invitation to visit the presentation of Auma Obama's book "And Then Life Happens" at Goethe Institut Nairobi, I decided to go there for sure.
Luckily there still was enough time ti find the book and read it before going to the presentation.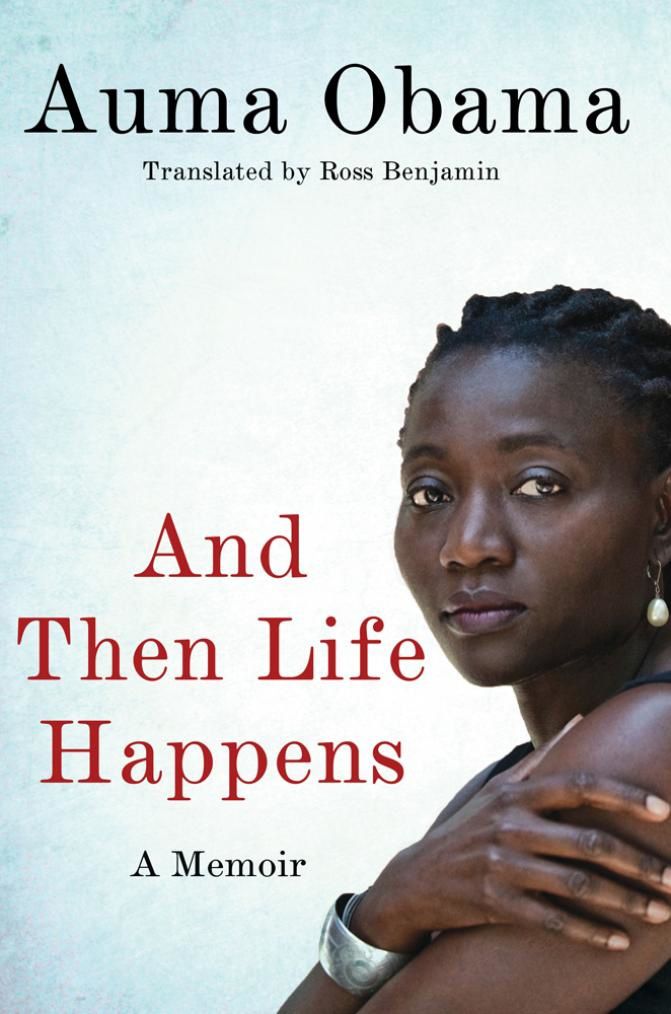 Reading the book itself was an amazing experience for me. It gave so many answers, highlighted so many unknown topics related to Kenya and its people (Luo traditions, everyday life), and, of course, as many expect explained for its readers all over the world why Barak Obama is of Kenyan origin.
Auma Obama is older (half) sister of Barack Obama who was born in Kenya, grew up and studied at school here. Both her parents (father: Barack Obama Sr., mother: Kezia) were Kenyans from Luo.
In her book she writes: "in our polygamous Luo culture we never speak of "half" of "full" siblings, but only of brothers and sisters - unlike in the Western, "pseudo-monogamous" culture, where people are classified as full and half siblings, creating a hierarchy that does not actually exist in Luo culture."
The Luo are one of more than forty ethnic groups living in Kenya. They are among the Western Nilotic peoples, who migrated centuries ago from Sudan, from the banks of the White Nile, to Uganda and onward to Kenya, settling on Lake Viktoria. Today the region of the Luo-speaking eoples extends across southern Sudan, Ethiopia (Anuak), northern Uganda, and eastern Congo (Democratic Republic of Congo, DRC), as well as across western Kenya into northern Tanzania. In Kenya, the Luo are the third largest ethnic group after the Kikuyu and the Luhya; in total, over four million people are said to speak their language.
The Obama ancestral home lies in the rural western Kenya, in a little village of Alego Nyangoma Kogelo, not far from the shores of Lake Viktoria. To this day, it is the home of Auma's and Barak's grandmother, Mama Sarah, where, on the Obama family homestead, lie the mortal remnants of their father Barack Hussein Obama Sr. (1936-1982) and grandfather Onyango Hussein Obama (1879-1975).
Barack Hussein Obama Sr. as a teacher in his early twenties got a private American support (of 2 teachers from the organisation World Wide Lit) and was accepted by the University of Hawaii in Honolulu to study mathematics and economics.
By the time young Barack Sr. got the opportunity to attend a university in the USA he already had a wife (Kezia) and a son (Abongo). A second child (a daughter Rita Auma) was on her way.
While studying in Hawaii Barack Sr. married eighteen-year-old Ann Dunham (pregnant with their baby - Barack Jr.), who also studied at the University of Hawaii. She was an anthropology student.
For those with a western world perception it would sound strange that a man married one woman being already married to another. Here Auma explains in her book some of Luo traditions.
Polygamy is customary, and a man is permitted to have several wives. He may, without having to get divorced, get married a second, third, or even forth time.

...for the Luo, after the delivery of the bride price (usually a certain number of cattle) and the birth of children, an official divorce is, as a rule, no longer possible. Even in the case of a separation, the couple continues to be regarded as married. If they remain childless, however, the wife is frequently blamed. In that case, if the man does not simply take another wife, a divorce is possible.

... if there is a separation, all the children born from the marriage belong to the husband. They become his property... And his wife is permitted to go back to her own family only after a return of the bride price.

...In the life of a Luo woman, another change occurs with marriage. As a result of the strict customs, she now loses her place in her original family. One ritual makes this particularly clear: Among the Luo it is customary to bury a deceased family member within the homestead. A married woman is traditionally buried on her husband's compound. A divorced woman, however, even if she lives on her former family's compound, is permitted to be buried only outside the homestead-because, despite returning home, she does not belong to her parents' family, but still belongs to that of her husband. Both families are acquainted with this tradition and adhere to it.

When Barack Sr. earned his bachelor's degree in Honolulu, he was offered the opportunity to pursue a doctorate at Harvard University. Because of unbridgeable differences of their very distinct cultures Ann decided not to follow him to Harvard. She stayed behind in Hawaii with Barack Jr. and resumed her studies.
Little Barack was two when Barack Sr. left Hawaii.
This is how their lives took different routs.
During his time in Harvard, Barack Sr. met his future third wife Ruth Baker. After Barack Sr. returned from the United States to his homeland, she followed him and came all the way from Boston to Kisumu to begin a new life in Nairobi. Two boys (Okoth Mark and Opiyo David) were born in this marriage. But the marriage ended up with a painful divorce for both the couple and their children.
The most difficult time in Auma's life started. Deprived of her stepmother and half-brothers and left with a desperate but hard working father this small girl should have started to find her place in this big world by her own.
Here Auma describes her father talked to her late into night about her brother Barack and his mother, Ann.
Over the years, I had heard a lot about this brother in the United States whom I had never met...
...my father spoke regularly about Barry, as he called him, to us children and our extended family, ensuring that he was definitely part of the Obama family...
...my father repeated the stories from letters and showed me photos sent to him by Ann updating him on Barack's progress. He was very proud of Barack and also seemed to still care a lot for Ann.

After hard times in Kenya (domestic and financial problems) Auma managed to graduate from school and as she was among first pupils who studied German at school got a chance to got DAAD bursary for studies in Sociology and German in College in Saarbrucken. During that time, in 1984, Auma got the letter from her "too abstract" brother Barack.
In our family, he had always only been called "Barry", the unknown brother, who lived in the United States with his mother, Ann, my father's second wife.
Since that time the brother and sister had been exchanging letters for some time and Barack Jr. has invited his sister Auma to come to Chicago and meet.
Here Auma shows "unknown" to general readers Barack Jr. who worked at that time "in the projects of building affordable housing for the lowest income groups", drove a small car that "save gas and can park almost everywhere" and was an excellent cook.
Almost all the time Auma spent with her brother they spoke about their father who was last by that time.
I not only liked Barack as a person, but I also immediately felt incredibly comfortable with him. In the brief time we had spent with each other, we had gotten so close that we had actually managed to bridge the years of separation between us.
After Auma held her diploma in her hands she applied for a doctoral scholarship from the DAAD. But the foundation wanted her to return to Kenya and teach German at the university there for a year before starting her doctorate. It was during that time when the brother and sister met for the second time. This was Barack's first time in Kenya.
Auma writes that Barack was "very low-maintenance".
He explained to me that as long as he had a place to sleep, could jog, and got something to eat, he was happy.
During his first visit to Kenya Barack has visited his numerous relatives in Nairobi, Karachuonyo, Nyangoma and of course his grandmother Sarah.
Barack also met new relatives and participated enthusiastically in the rural family life. My brother observed everything closely; despite the fact that on our grandmother's homestead he got only a glimpse of traditional Luo life, he wanted to experience it as fully as possible.

When no family visit was on the agenda, we took excursions, once to the coast, another time to the Maasai Maragame reserve.
One of my favorite moments in the book was the scene where Barack and Auma took matatu (a local minibus) in Mombasa. The whole thing was described in a very funny way with tons of humor.
What I also liked reading this part of the book were long and interesting dialogs between Auma and Barack, where they discussed their plans for the future, their goals and dreams. Barack said that he wanted "to become more politically active" and for this goal he was planning to go to Harvard to earn a law degree. At that time Barack shared his objectives to bring a significant change in people's lives. "I want to make a better future possible for them or at least for their children." "If you want to make a difference, you have to put yourself in a position from which you can influence events."
Auma has chosen even more difficult goal. She was determined to bring serious and meaningful social change in Kenya in the nearest future.
After a year working in Kenya, Auma returned to Germany, worked there and got her PhD.
Meanwhile Barack was eager to introduce his fiancee Michelle to his Kenyan family. Michelle "exuded a calm and composure yhat made it very easy to talk to her." Auma writes in her book about their visit upcountry to their ancestral home, how a young couple of Barack and Michelle fit into Kenyan rural life, eating with their hands-as a customary for Luo traditional dish of ugali, fish, and greens. And then she sums up: "The general feeling in the family was that Barack had chosen well."
During this visit to Kenya Barack spent a lot of time sitting over his notes and writing. He was writing a book about his life which appeared in 1995 under the title Dreams of My Father.
Not long after this visit to Kenya Barack and Michelle got married in Chicago in 1992. Auma was chosen as one of the bridesmaids. Once more a loving sister came to support his brother in this big day.
After some period of time Auma also married and moved to Great Britain. There she became a mother and a housewife, she got a great life, from the point of view of many women, but it was not enough for Auma who always wanted to help others and make difference in people's lives. Thus she worked on a mobile youth center helping marginalized Sinti and Roma peoples. Working in the youth bus, Auma sensed that she had found something that was really for her.
After Auma had been working full-time for the Youth Service in Great Britain, this job seemed to be "tailor-made" for her and her vision, yet she was more and more convinced that she could achieve more working in Kenya.
Meanwhile in the United States Barack had become a lawyer. And as "he had never lost sight of his goal of trying to influence policy to improve people's lives", he had gone into politics instead of working in a law firm. First he run for election as a senator and now he was "one of five black people who had succeed up to that point in getting elected to the United States Senate. And it had been years since the last black person had assumed such an office." This time Auma also supported her brother during the inauguration in Washington.
After being elected to the Senate Barack also visited Kenya. On a trip as a statesman Barack was received in Kenya with the various ceremonies. "From the day of his arrival the whole country was seized with Obama mania". Barack gave a speech at the university of Nairobi and planted a tree in Uhuru Park. Countless people came to watch him.
The arrival of Barack and Michelle in Kisumu was a major event, because there was the added element that the people were incredibly Proud that such an important person had his family roots in their region. In Alego as a welcoming gift Barack was given a goat that was immediately lost in the crowd of people. At Granny Sarah's house Barack enjoyed his meal with chapati (Kenyan flatbread) and made a promise to come back.
Major changes happened in Auma's life too. CARE offered her the position as coordinator of the East African Sport for Social Change Initiative (SSCI). Auma's coordination work brought her into contact with about 35 East African local aid organizations, which altogether dealt with several thousand children and young people.
Auma comments: "My task was to help them develop their capacities by sponsoring trainings and workshops."
Auma finds it important to fight against clichés, as it is not fair that East African children frequently have to serve as puzzle pieces in a prevalent perception of Africa that is all about poverty, wild animals, beautiful beaches, and a few top athletes. "Through what I do, I try to show them that there is also another, positive image, which they themselves can help create."
In 2007 Auma's brother Barack informed her that he intended to run for the presidency of the United States. Auma's life came in the spot immediately. People wanted to learn more about the Kenyan part of Barack's background, in order to understand him better. So Auma was there to help tell Barack's "Kenyan Story". In her book she writes: "I explained, for example, that he had always been regarded as a son of the family, despite the distance and the fact that he first visited Africa only as an adult."
On January 20, 2009, Barack became the forty-fourth president of the United States. Auma with many family members from Kenya shared the experience of the inauguration with the American family. She describes their five days visit in Washington, D.C., full of memorable encounters and events.
Reading Auma's book And Then Life Happens was like an adventure for me. And it was not even because she is the sister of 44th American President, but because of her personality and freedom of mind. She also highlights the point of being a sister of such a prominent person is not easy. It changes your life completely, and somehow it changes you. Fortunately, Auma is not a kind of a person that would take advantage of being someone's relative and doing nothing.
Ordinarly, I then declared that my brother had always been my brother above all else and that I wouldn't change no matter what great things he went on to achieve. Ultimately, that was the most important thing to me. That fact would never change.
This incredible inspiring woman never tried to find an easy way...
Back in England, I again had to deal with work-related challenges. And things did not get easier. Often I felt frustrated because I could not bring about lasting change in the lives of the young people I worked with. What difference was I making? I asked myself again and again. What could I really achieve?
The way that Auma chose to use her background, her education, her lifetime experience and her world-known family name OBAMA deserves the biggest respect.
I am aware that as an Obama I now have a real chance to make a difference. For me, a door has been opened, and I, too, want to open doors for others.
Full of admiration after I had read the book I visited her public reading of her Autobiography and its discussion, organized by Goethe Institute, Nairobi.
What amazed me most was the number of young people who came eager to work with Auma, who were inspired by an example of this intelligent and open minded woman who committed fully to making a positive impact on the lives of the disadvantaged children and young people. After the reading the audience got great chance to watch a movie "The education of Auma Obama" and discuss with Auma her work and plans for the future.
I am very happy that I had the opportunity to read Auma's book "And Then Life Happens" and I can definitely recommend it to everyone. I am also honored to visit the public reading of Auma's Autobiography and to meet this incredible woman personally.
Sport for Social Change Initiative
The Sport for Social Change Initiative is a pioneering program that uses the convening power of sports as a vehicle to minimize the effects of poverty on marginalized youth and young adult ...
http://www.care.org/careswork/whatwedo/initiatives/sportforsocialchange.asp