Kenya has more than 55 National parks, reserves and sanctuaries. This beautiful country is a home of the safari where setting out on an advanture into the wilderness became an age old tradition. The spirit of safari lives on today. The romance of sundown drinks, of evening around a campfire and nights under canvas with a distant roar of a lion in tha African night can be still found in Kenya.
This time from its huge variety of landscape, wildlife, human culture and experience we chose Amboseli National Park that spreads across the Kenya-Tanzania border. 140 km (87mi) South of the capital city Nairobi, Amboseli National Park is the second most popular park in Kenya after Maasai Mara National Reserve and the visit can easily be done in a weekend.
The park is famous for being the best place in Africa to get close to free-ranging elephants. The park also offers spectaular views of Mount Kilimanjaro which is the highest mountain in Africa and the highest free-standing mountain in the world.
Amboseli National Park is home to wild animals, which include the African elephant, cape buffalo, impala, lion, cheetah, hyena, giraffe, zebra, and wildebeest among other African animals.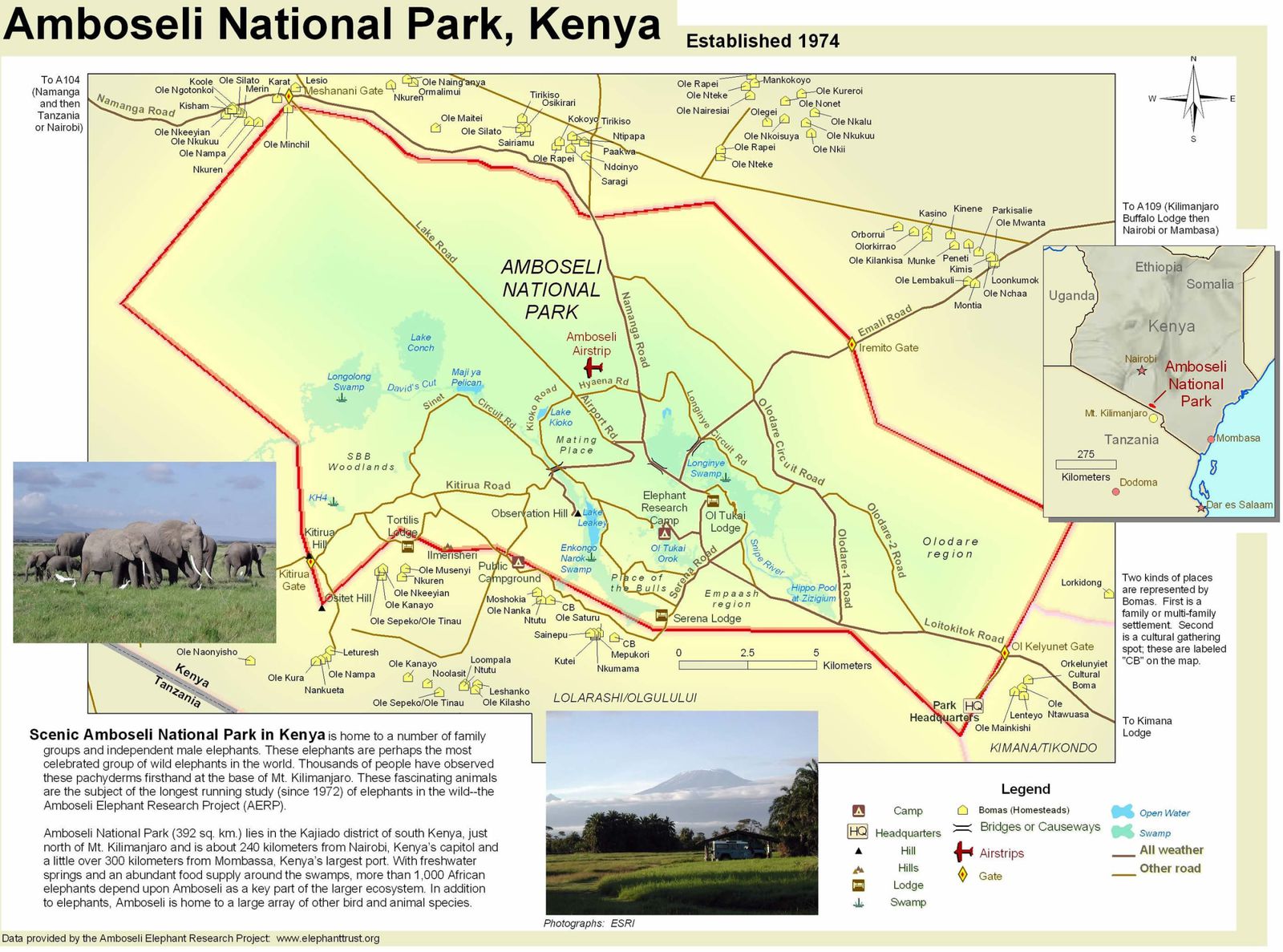 We went to Amboseli from Nairobi by car. We drove to Namanga first, thus we arrived on Kenyan border with Tanzania. And then followed the signs to Amboseli park. This road is the old one, the traditional, I would say. But it is longer and more battered than the new one that leads to Mombasa. Although it has its advantages, it is more relaxed (no big trucks), it is very picturesques, you will see dozens of Maasai people, and the last but not the least advantage is that you will see the Kenya-Tanzania border.
In Amboseli we stayed in Ol Tucai Lodge, which we really liked. It had a unique collection of African art, and every room had a nice design. We also admired the variety and quality of their food. Ol Tucai had also an excellent service. The only disadvantage is that their pool with Kilimanjaro view was not heated. Except that I believe that this Lodge deserves its 5 stars rating.
We arrived in our lodge at midday just for lunch. After a small fiesta after the luch we went on safari with a great expectations to see as many animals and birds as one can only see on Discovery channel.
Just before the sunset we headed for the Observation Hill to enjoy the sunset and the Amboseli view from the hill. Unfortunately Kilimanjaro was not well seen because of the clouds.
My advice: if you want to capture the best Kilimanjaro view, you should get up early in the morning with sunrise. During the day and in the evening it is almost always cloud-capped.
So, after the sunset we returned to our lodge where a delicious dinner had already waited for us.
Next morning we woke up very early to see the sunrise and to welcome the new day together with Africa and all animals. Before the safari we had our coffee and tee and the magic begun. Early morning safari I liked more then the afternoon one. I had a special feeling when I saw animals having their breakfast half asleep so peacefully and relaxed. It is indeed a great experience to watch animals walking around with their families, providing food for their children.
After a 3-hour gamedrive we returned in the lodge where the breakfast was already served.
A classic Amboseli shot: an elephant with Kilimanjaro background
When we were about to leave, a group of baboons swarmed all over our car. They were so nice and little, that everytime I saw them I wanted to touch them. Unfortunately it was not safe. As they were almost everywhere on the territory of the lodge, we were warned to close our windows and doors not to let baboons come into the room. Our friends didn't follow the rule, and as a result, a baboon took all their sugar bags. This was just a funny story, but baboons can also make a lot of mess if they get into a room.
Actually baboons can be very agressive, especially females against women. There are even raping cases of women (at the time of menstruation) by baboon males.
Our visit to Amboseli National Park was a life-time experience. Just outside of the park we had another surprise, we saw giraffes. It was so amazing, that in Kenya there is a wildlife not only in parks, reserves and sanctuaries. I wish all people could come here (to Amboseli and to Kenya) and appreciate this beauty, see animals in the wild nature but not in cages in the zoos, know more about them and fall in love with Africa as we did.
Amboseli National Park is located in Loitoktok District, Rift Valley Province of Kenya. The ecosystem mainly savannah grassland spread across the Kenya-Tanzania border. The park is famous for being
Ol Tukai Lodge is one of the best spots in the world to watch elephant with the backdrop of Africa's highest mountain, Mount Kilimanjaro. Writers have described Ol Tukai and the surrounding Amboseli