Hello! This post is about our visit to the Sweetwaters Chimpanzee Sanctuary in Ol Pejeta conservancy where we enjoyed seeing chimps for the first time in our lives.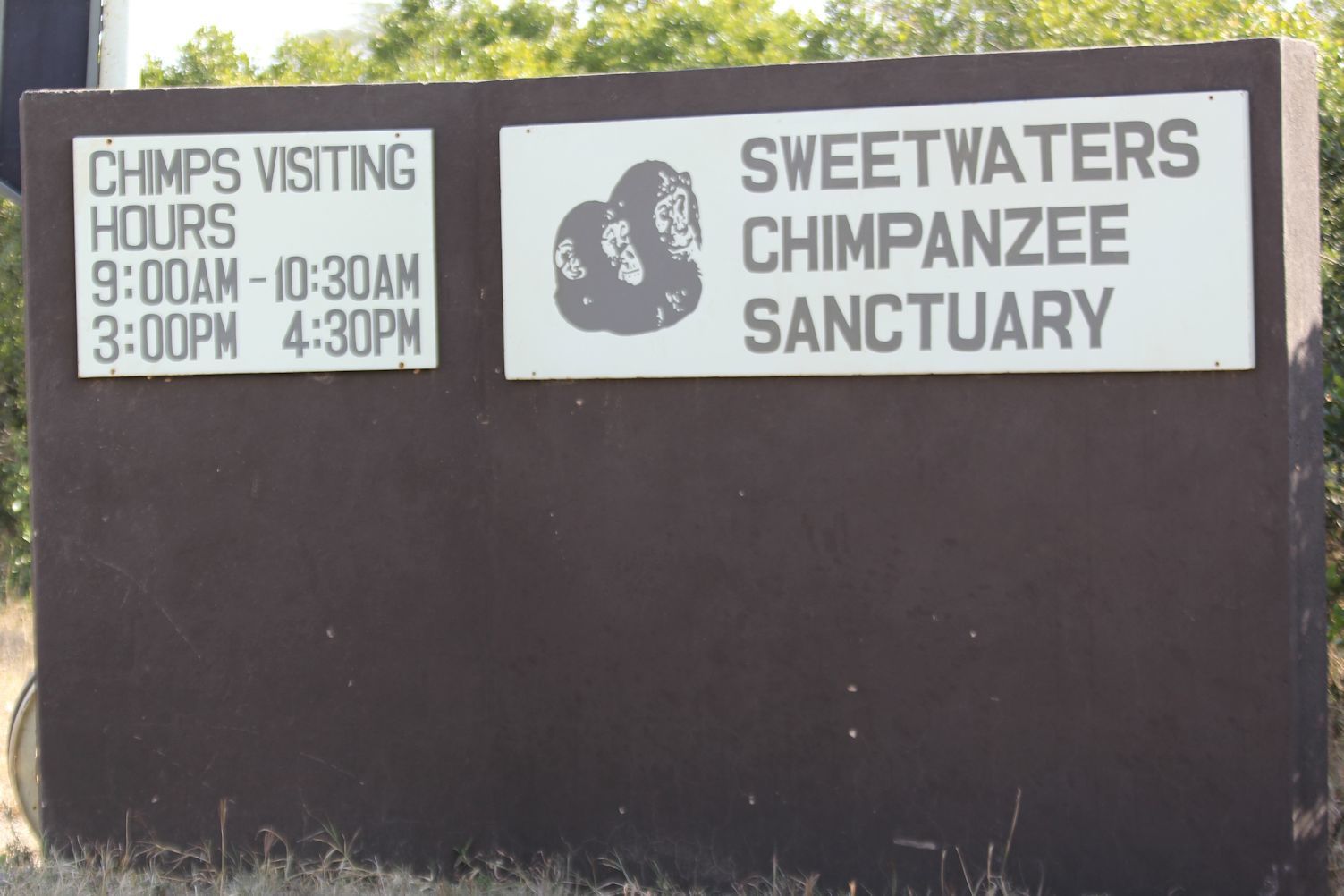 The Sweetwaters Chimpanzee Sanctuary was opened in 1993 after an agreement between the Ol Pejeta Conservancy, the Kenya Wildlife Service (KWS) and the Jane Goodall Institute. The sanctuary was established to receive and provide refuge to orphaned and abused chimpanzees from west and central Africa. An initial group of three chimpanzee orphans were brought to Sweetwaters from Bujumbura, Burundi in 1993. This was followed in 1995 by another group of 9 adult chimpanzees, followed by another 10 in 1996. Sweetwaters is currently home to 44 chimpanzees split into 2 groups, a larger group with 29 members, and the smaller group with the remaining 15.
Sweetwaters Chimpanzee Sanctuary is not just a large cage holding a few chimps, but a 250 acre purpose built enclosure. It is split into several parts and divided in 2 by a river, where the chimps can live in almost natural conditions. In fact there are no wild chimps in Kenya. Thus it is the only place where this highly endangered and remarkably intelligent species can be seen.
In this sanctuary there is a sad story behind each chimp. Our guide knew each chimp's names and the reasons of their coming to the Sanctuary.
The chimps have all been rescued from 'inappropriate' care. Sometimes people tried to look after orphaned chimps and could not cope with their strength and size. In some there were downright disgraceful instances where chimps had been chained up or locked in a cage not even small enough for them to lie down.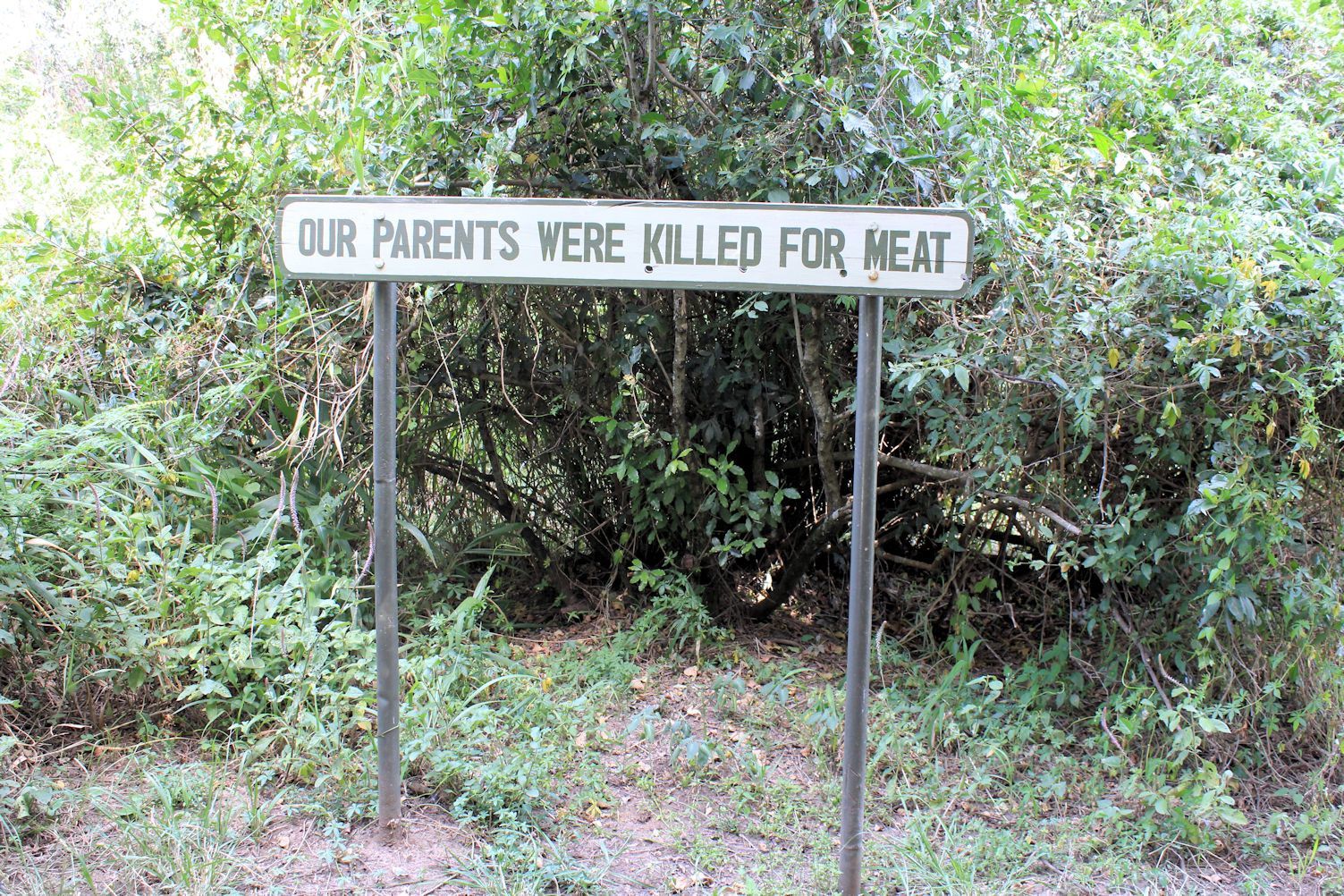 The viewing gallery contains a brief biography of many of the chimps here, and almost all are harrowing stories. Of all the sad tales, that of Poco is probably the most shocking. Poco spent the first 9 years of his life in a cage suspended above a small workshop in an attempt to attract potential customers. The cage was so small that Poco was only able to sit or stand on two legs, which is completely unnatural for a chimpanzee. As a consequence, Poco to this day stands on two legs much of the time especially, when showing off to visitors. However, since settling in at Sweetwaters, Poco has been a model guest and is now one of the more gentle chimpanzees.
When the chimps first arrive here they are placed in a holding pen for a few weeks to allow them to acclimatise to the local conditions (as it is a bit dry for them in Ol Pejeta), and, more importantly, to allow the carers to ascertain which of the groups the new chimps should be placed in.
The chimps have been sterilized as, if allowed to breed naturally, their numbers would quickly outgrow the capacity of the sanctuary. This I find sad and unfair. But I also can imagine how much money would have been necessary to feed all the chimps with their continuously growing breed. However a few babies were born, and even now occasionally very young chimps are added to the groups, who have always taken them in as a family member.
The chimps behave almost exactly as they would in the wild.
We got really close to the chimps behind the fence and got a great chance look them in the eyes.
Chimps are our nearest cousins. They are incredibly endearing, and they do provide plenty of entertainment for any watchers, especially the younger chimps and the way the older animals put up with their young companions.
The fence is designed to keep predators out as much as to keep the chimps in.
We had a great fun observing the chimps, that is why we recommend everyone to visit this Sanctuary.
Visitors to the Ol Pejeta Conservancy have free access to the Sweetwaters Chimpanzee Sanctuary.
The Sweetwaters Chimpanzee Sanctuary is open daily from 9:00am to 10:30am and 3pm to 4:30pm.