Hello! This post is about our second safari experience in Amboseli National Park and our stay in Tortillis Camp.
My blog has not been update recently as so many new things happened in our life. First of all my husband and I traveled to Amman, Jordan and spent there August. Then we left Nairobi, Kenya mid October. After my husband finished his mission in Somalia (our family was based in Nairobi all the time) we had our holidays in Kiev for more than a month. Now we are based in Tbilisi, Georgia. We came here for the whole year and I am planning to continue writing my blog. I have already got some interesting info and updates about Georgia, however I would like to finish my posts about Kenya and to say farewell to Africa.
So, after Tsavo we headed to Amboseli where we wanted to try highly recommended by all our friends Tortillis Camp.
We had already been to Amboseli before, but as you may guess there is no such thing as "same safari experience in the same park", that is why we enjoyed driving there in our private SUV. As usual we saw a huge number of elephants, zebras, giraffes, wilde beests, Thomson's gazelles and huge number of different birds.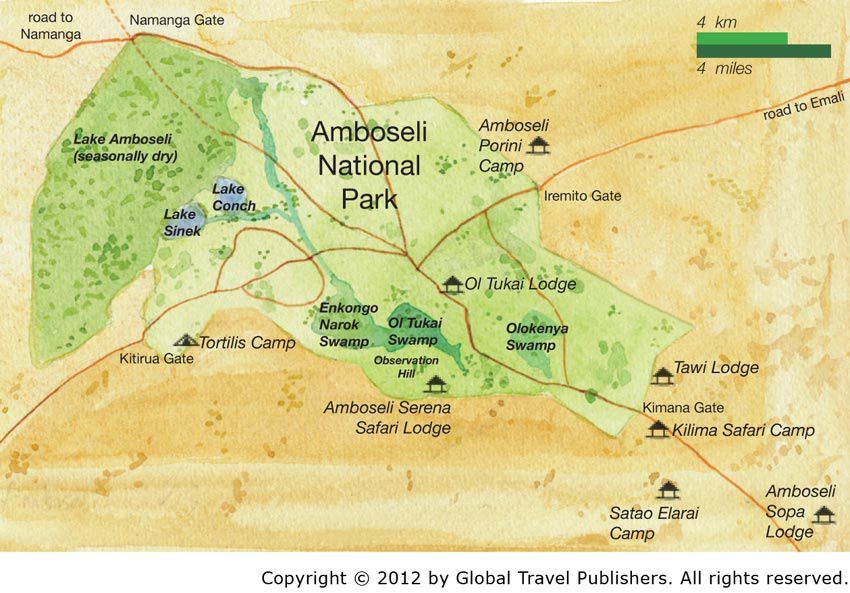 After an interesting and exciting safari drive we headed to our camp.
At the entrance we were warmly welcomed by the staff of the camp. After a short and informative talk about camp's facilities we were escorted to our room. First of all we noticed that the camp was on a hill overlooking the park with views of Mt. Kilimijaro.
Tents are situated within a small walk away from the main buildings down a slope, which is fine if you are fit. The tent accommodations with a thatched roof were very quaint and cute, with a lovely cobblestone sitting area outside on the patio. It was so relaxing to just lie on your bed and read with the tent flaps open to let in the fresh air and hear the sounds of wild nature. Electricity was on all night if you needed it. There was also no problems with hot water at all.
What we liked was a beautiful thatched roof, open bar/lounge and dining room, overlooking the wilderness and fantastic views of Kilimanjaro. A lovely (lit at night) cobble stone pathway that leads you around the entire camp, right down to your tents. There's also a fire pit that you can cozy around for the evenings. Just fantastic. Even the common restrooms in the reception area were lovely - fresh flowers and individual hand towels.
For us, décor and style is something that can make an ordinary holiday experience simply extraordinary. Tortilis made our time extraordinary.
Furthermore we never would have expected a safari tented camp in the middle of the African wilderness to be so aesthetically pleasing to the eye, offer incredibly delicious Italian food. The food is without exception the best we've ever had at a safari camp and frankly rivals meals we've had at luxury hotels the world over. Lunch is generally buffet style, but dinner is a sit-down affair with multiple courses presented by attentive waiters. There is an extensive garden that provides wonderful fresh vegetables. The owners' and managers' Italian background is evident in the menu - freshly made pasta, ravioli, or gnocchi were served at dinner each night, along with a second meat-based dish. The staff asks about any food allergies or preferences, and would easily have accommodated a vegetarian diet.
Wifi was available in the lounge/reception area. Swimming pool and bar facilities nearby looked very tempting, though we did not have enough time to enjoy it. Tortillis has also a marvelous mini-shop with lovely souvenirs.
It was a great stay indeed, and I am sure we will keep all the loveliest memories from that precious safari experience.
Amboseli National Park is located in Loitoktok District, Rift Valley Province of Kenya. The ecosystem mainly savannah grassland spread across the Kenya-Tanzania border. The park is famous for being